3 Major Things to Look for When Renting a Yacht in Dubai
3 Major Things to Look for When Renting a Yacht in Dubai
(Under 50 people) (different for larger event boats)
Every situation is different and sometimes there are other variables to consider.
Here are things you should definitely keep in mind when renting a Yacht in Dubai.
This applies more so to day cruises of about 7 hours or less on Yachts holding 50 or less passengers.
Cancellation policies 
Boats break! Also, the weather gets bad, a new restriction is issued etc…
You plan a trip with your friends, family or workmates with some flying in on vacation.

It takes a lot of time and effort to coordinate not only the yacht (food etc... as well), but the rest of the days activities.

It's the day of the trip and the yacht isn't available! 🤦‍♂️😱

The company says sorry, we'll book you the following day!

That won't work! You can't change your plans at the last minute!🤬

The only other option is they'll refund your money 😓.

Now you have to find another company, pick another yacht (if available), and secure the same type of rate or deal you previously signed up for! OMG (maybe everyone pitched in a certain amount and will be expecting a yacht cruise in Dubai!
Don't let this happen to you!
Things happen (unfortunately)

Most things are avoidable with proper due diligence, maintenance, awareness and the ability to react effectively to new hurdles, but sometimes…
Well there's a major thunderstorm, there's a problem with the generator or the captain is stuck on the metro. FYI, been through them all!
Ask your specialist, the company or whoever you're dealing with, what's the policy and plan if something happens.
Don't accept vague answers!
You do that and you put yourself in a position to absolutely lose! You'll have zero leverage and be at the mercy of whoever you paid… The better the company, the better their policy, period.
For us, we do a few things.
If it's our fault, the boat is broken, we had a double (or triple) booking 🤦‍♂️ and the  boats not available, we upgrade you at our cost to a bigger and better yacht. We sometimes do this as a way to say thank you to our return customers as well!
If the weather is bad and the Coast Guard says we can't leave. This is where the Canal shines as there's fully protected routes to cruise for hours even if the water in the ocean is very rough. So if the weather is bad, we can either refund your money, reschedule your trip, remain in protected water if possible or remain in the parking. It's your choice.
Departure point (Where is the Yacht Parked?)
Ok, so where does the boat leave from? There are 3 popular areas your boat will depart from (Dubai Marina Yacht Club, Jumeirah 5 & the Dubai Canal) with the Dubai Marina Yacht Club being hands down the most popular.
So what about the other places?
Since DIMC (Dubai International Marine Club) shut down (behind Barasti), the DMYC is the major commercial departing point for boat charters in the area.
Jumeirah 5 is a lot smaller and located near the Burj Al Arab.
The Dubai Canal is new and is home to a few different marinas with Marasi Marina being the biggest.
Which one is better or which do I recommend? You can check that out here.
The major differences are the landmarks you want to see and a few other advantages / disadvantages.
For example, when leaving Jumeirah 5, the Coast Guard inspects every boat and yacht. During busy periods (weekends / sunset) , this can lead to delays leaving the Marina (you'll already be on the yacht though…)
Also the boats here average a little cheaper, so you may be able to save some of your hard earned money.
Another thing to consider is car parking and how far the boat is from the vehicle drop off point.  The Old Dubai Marina Yacht Club had parking for members and Valet for customers. This of course changed when the building was torn down. See our upcoming article What Happened to the Dubai Marina Yacht Club!? Now you'll need to park on the street to access boats parked at the old clubhouse location and Fridays or any popular time, it will be impossible.
The Dubai Marina Yacht Club has a few different areas and the furthest 2 locations ARE NOT WALKING DISTANCE from each other! So make sure you know where you're going because the taxi driver won't! They'll take you to the Dubai Marina, but chances are it won't be the location where your boat is parked.
Jumereirah 5 parking is limited as well, but other than the weekend, you can usually find a spot.
Marasi Marina has hands down the best parking situation! With 2 parking lots onsite and another up the road a bit, parking is the easiest here for sure.
So it basically comes down to what you want to see, the boat you like and where you're willing to leave from.
Fly bridge size (Don't Overlook This!)
There are quite a few things to consider when renting a yacht in Dubai.
The best way to make sure you don't forget something is to choose a company you already have a relationship with as they'll want to keep you happy and ensure things go smoothly.
Size matters, but it certainly isn't the only metric to consider when renting a yacht.
Over the years I've had tons of people ask this as a first question, "How many bedrooms does it have?"
Yes this could be relevant, but if your renting a yacht in the afternoon for 2 hours with your family and friends, the bedrooms are irrelevant.
For most day cruises under 5 hours, most, if not all of your time, will be spent on the top deck, the fly bridge.
Just because you have a big yacht, doesn't mean you have a big fly bridge!
There are tons of yachts over 60ft with fly bridges smaller than yachts of 48ft!
Your yacht specialist should know this and should guide you to the most suitable yacht for your group type and budget.
Between categories of 10ft or so, the price difference per hour shouldn't be more than 200 aed ($54) per hour and in some cases, they'll cost almost the same.
They are time when a smaller fly bridge may suit you.
Yachts and boats in general are a compromise of desires.
If you want a fast boat, it won't be so stable at lower speeds.
Want a super stable boat in calm water, it won't handle the chop of the ocean well at all.
Want big bedrooms? Then the salon might be smaller or you'll lose the big kitchen.
You can only design a boat to effectively achieve narrow goals. An ultra long range cruiser needs room to hold the fuel, backup accessories etc… so that space has to come from somewhere.
Want a nice wide bottom boat so there's lots of space for bedrooms and the salon? Well the further you get away from a sharp angle V bottom, the less ocean worthy it's going to be!
Ever wonder why a boat that seems bigger than the one your on is rocking like crazy and you're nice and stable even though your in the same area?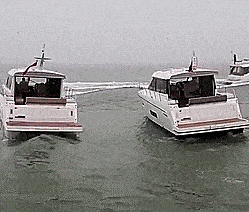 That's why…
So I said there's a reason you may want the smaller flybridge of a 68ft yacht vs the larger flybridge of a 48 or 50ft yacht.
Well here's an example of when that's better.
You have a small to medium size group of 10 to 15 people and you want to take the yacht for 5 hours and see as much as possible.
You want to go to the Atlantis, Bluewater island, the Burj Al Arab and the Dubai Canal.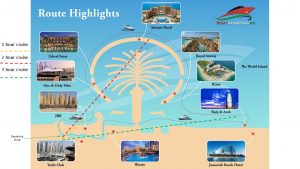 For this trip you'll be actually cruising in the ocean almost the entire trip.
Our 68ft example yacht has a much sharper angle V hull (bottom) which prioritizes ocean handling and efficient ocean cruising.
What does that mean for you? Well stability for one. Less chance you'll get sea sick and the ride will be much smoother at slightly higher speeds.
The hull is more efficient, so the captain won't mind giving it a little more throttle which will also keep the boat more stable.
Fun fact: When a boat is idling around (like in the Marina or Canal) it's considered off plane.  This means the entire hull or bottom of the boat is underwater. This has the absolute lowest fuel burn rate per hour.
When you give the boat enough power, you can get it to plane, which means the bottom or hull of the boat is cruising on the top of the water!
Here you're burning a lot of fuel, but your covering a lot of distance, so in certain cases it's beneficial. Although you'll almost never see a charter yacht do this as it's just too expensive per hour to run. 
Between the boat idling and it being on top of the water, there's the in between phase where the boat is trying to pop up on top of the water and where most of the hull remains off plane or under the water.
This can burn over 8 times as much fuel as idling or being on plane!
A good captain will never get caught in this position for long as they'll know if the boat is too heavy to come up on plane easily and will avoid it.
This is why you're at idle speed, or close to it, 99.9% of the time.
Another advantage is the increase of space inside the yacht for things such as increased bedroom, kitchen and salon size.
Although you don't want to be inside when out on the ocean if you're prone to sea sickness!
Check out this article to find out why! Seasickness and how to avoid or cope with it.
So you have a roomy interior, stable ride and room to hang out on top, in the front out back and inside.
Another advantage of the larger yacht and smaller fly bridge in this example is the increase in space of the front area.
So you have more room to hang out there if you so desire.
So the point being, size matters, but it's not the only factor. Ask your yacht specialist which is best for your group needs and have them explain why!
If you only want the cheapest boat possible, then that's what you'll get.
So those are 3 major things to ask about when renting a yacht in Dubai.
For larger yachts and event boats, there are a few more crucial things you'll need to ask about as well.
Stay in touch to find out more!